WINE & CULINARY TOUR
<![if !vml]>
<![endif]>Day 1: ARRIVE Istanbul
Arrive at Istanbul Ataturk airport. Meet your escort and transfer to your hotel. Dinner in a traditional Ottoman house with great choices from world famous Turkish Cuisine accompanied by local wine and deserts as final. (D)
Day 2: Istanbul
After breakfast visit the Highlights of Istanbul: The Hagia Sophia Church, built in the 6th century AD by Justinian and became the largest church in the world for many centuries until its conversion into a mosque by the Ottoman Sultan where you can admire beautiful mosaics of Byzantine art. The Byzantine Hippodrome where horses and chariots raced once upon a time and ten thousands of people cheered for them. The Blue Mosque, famous for its tiles and interior decorations, the most important mosque of the city. Topkapi Palace, the residence of the Ottoman Sultans for about 400 years. Lunch will be in the Palace having a unique view over the Bosphorus and offering delicious Doner Kebab. The Grand Bazaar for a leisure afternoon with more than 4,000 shops. Dinner in Kumkapi district famous for its fresh seafood and tens of restaurants full of local people enjoying their fish with mezes. (B-L-D)
Day 3: Istanbul
After breakfast drive to Mürefte (2.5 hours from Istanbul) to visit the Doluca Winery and taste different brands of wines produced at this facility. Doluca Winery produces a wide selection of white and red wines such as Chardonnay, Sauvignon, Moscado and so on. Return to the hotel late in the afternoon. Dinner along the shores of the Bosphorus Strait viewing this great place at nighttime as well. (B-L-D)
<![if !vml]>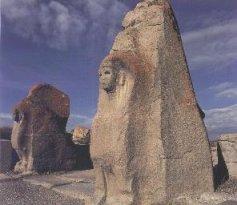 <![endif]>Day 4: Istanbul - Ankara
After breakfast transfer to the airport for a short flight (1 hour) to Ankara. On arrival visit the Kavaklidere Winery close to the airport. Following a briefing on their production taste the famous Turkish wine Kalecik Karasi. Then visit the Anatolian Civilizations Museum in the Old Citadel, one of the best Archaeological museums in Turkey, housing an extensive display of ancient settlers in Asia Minor starting from Stone Age and especially dating back to Neolithic and Bronze Ages such as Catalhoyuk and the Hittites. Lunch in a traditional Ottoman house overlooking the city and taste some local food from Central Anatolian region. Also see the Mausoleum of Ataturk where the founder of the Turkish Republic rests in peace. Overnight in Ankara. (B-L-D)
Day 5: Ankara / Hattusas / Tokat
Early departure for Tokat. En route stop at Hattusas (Bogazkoy), former capitol of the great Hittite civilization. Here you'll visit Alacahoyuk and Yazilikaya to view daily and religious life of the Hittites and admire this great people of faith and war. After lunch proceed to Tokat and overnight and dine in the hotel. (B-L-D)
Day 6: Tokat - Cappadocia
Following breakfast in the hotel visit the Diren Winery and taste their locally produced wines. On the way to Cappadocia lunch en route. After a scenic drive arrive to Nevsehir and check-in to your hotel. Dinner and overnight. (B-L-D)
Day 7: Cappadocia
After breakfast you'll explore and enjoy this unique region. . Visit Kaymakli or Derinkuyu underground city carved like a maze by early Christians escaping from Roman persecutions. The Goreme Valley, famous for its rock churches with incredible Byzantine frescoes. During lunch you'll have great examples of food in this area, especially prepared with lamb, beef and potatoes. The Pasabag Valley reminding a lunar surface with its panorama and typical formations of "fairy chimneys". Uchisar, a natural citadel in the region, a great opportunity of picturing these unusual formations. Avanos, which has the longest river of Turkey passing from it and thus making this small town an attraction for its pottery and other handicrafts. At the end of the day return to your hotel. Dinner and overnight. (B-L-D)
Day 8: Cappadocia / Salt Lake / Ankara / Izmir
After breakfast visit the Turasan Winery where they produce and store their wines under the ground to get the perfect temperature for the production faze. They've also won several national and international awards for their wines. You'll be briefed and offered to taste Turasan wines. Then visit the Agzikarahan Caravanserai, which was a sort of motel of our days, built in the 13th century to accommodate caravans traveling along Silk Route. En route to Ankara lunch in the restaurant and view the Salt Lake, second largest lake of Turkey and major resource of salt for the country. Arrive at Ankara airport to catch a short flight to Izmir. On arrival you'll be transferred to your hotel. Dinner and overnight. (B-L-D)
<![if !vml]>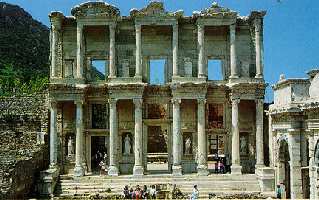 <![endif]>Day 9: Izmir / Ephesus / Izmir
Following breakfast a short drive (45 min.) to Selcuk town to visit Ephesus, ancient capitol of Asia Minor with its magnificent theater, library, agoras, temples and baths. The city was the largest port-city in Asia Minor and today is one of the most attractive archaeological sites in Turkey. The Temple of Artemis nearby was one of the Seven Wonders of the ancient world, dedicated to goddess Artemis, known as Diana in Rome. After lunch, visit the House of Virgin Marywhich is a place of pilgrimage for Christians where there is a small church as well. It's believed that Mary spent last years of her life there, and it's recognized as a shrine by Vatican. Then visit the old Greek village of Sirince in a lovely setting on the mountains where you can taste local production of their cherry, apple, strawberry and peach wines made by the villagers. Short drive back to Izmir and dinner and overnight. (B-L-D)
Day 10: Izmir / Pergamon / Istanbul
After breakfast drive to Pergamon to visit a great civilization dating back to the 4th century B.C. The Acropolis has a great view over the valleys and the temple of Trajan is the most impressive building on top of a very steep theater. The Aesclepion was an important healing center/hospital dedicated to Aesclepius, god of medicine. Especially mentally ill people tried to get a cure here while it became the second most famous hospital after the one on the island of Cos. After lunch drive back to Izmir airport for a short flight (1 hour) back to Istanbul. Arrive at Istanbul and transfer to your hotel. Dinner and overnight. (B-L-D)
Day 11: DEPART Istanbul
Breakfast in the morning and transfer to the airport. End of services. (B)

<![if !supportLineBreakNewLine]>
<![endif]>
PLEASE NOTE: This tour is run in Group basis only, with minimum 25 participants. Cost of the tour depends on the number of people you have in your party. Please contact us for pricing if you already have a group.
Included: 10 nights accommodation in hotels, all meals described in the itinerary as B-L-D, all transfers, private car/van/bus depending on the number of participants, licensed tour guide during excursions and transfers, visits and briefings in wineries, a glass of wine per person during meals, entrance fees to museums described in the itinerary.
Not included: International flights, domestic flights in Turkey, beverages during meals other then a glass of wine, visas, gratuities for guide and driver, personal expenses, all other services not mentioned in the Included section.